California Orthopaedic Institute: The Next Generation
COI's orthopaedic partners agree that efficiency and respect for customer service are the keys to the success of their state-of-the-art, physician-owned facility.
California Orthopaedic Institute (COI) traces its roots and commitment to patient care back about 50 years in San Diego. Yet with a new name, logo, location, and an idealistic second generation of partners, it truly seems to be a prototype of a 21st-century orthopaedic practice. Its modern, white, 30,000-square-foot, single-story headquarters is set on a hilltop convenient to three freeways in the Southern California metropolis' Mission Valley, an area about three miles northeast of its old location.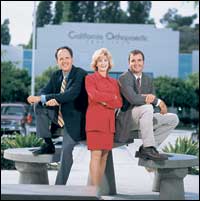 COI has operated at its present site only since April 2002, but its mission seems clear to its four physician partners, two associate physicians, executive director, and other staff: to offer a one-stop shop of orthopaedic care in an efficient, caring environment where patients have access to knowledgeable, skilled orthopaedic surgeons and pain-management specialists, along with a state-of-the-art surgery center and MRI and x-ray facilities.
The impetus for the move, explains Executive Director Joan McComb, was that the new guard of physicians, who began replacing the retiring first generation in 1996, wanted to change the way the practice operated. Known for decades as University Avenue Orthopaedic Medical Group, it had for years operated under the auspices of six, board-certified orthopedists in a 10,000-square-foot location in San Diego's increasingly congested Hillcrest neighborhood. The facility had 21 examination rooms and was convenient to the busy Scripps-Mercy Hospital where surgeries took place. But the incoming physicians, most newly launching both their practices and young families, "wanted more control over their equipment, staffing, surgical lives, and personal time," McComb says. Impatient with the delays in surgical scheduling at the hospital and frustrated at how the practice was quickly outgrowing the old address, they sought a solution.
Location, Location, Location
McComb, an orthopaedic management specialist who joined the group in 1995, initially looked into locations in the same vicinity, including considering whether to renovate the University Avenue location. However, parking was abysmal and retrofitting the building for earthquake safety and creating enough space for future needs either at that site or nearby seemed out of the question. "By law, it had to be a first-floor occupancy and there wasn't anything available to accommodate that," McComb says.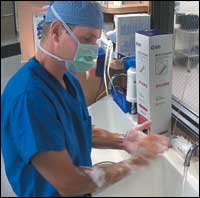 After 2 years, she started looking elsewhere and discovered available land in Mission Valley conveniently situated inside a triangular hub of major freeways. It proved to be just what the physicians ordered, an undeveloped piece of land that could be built to suit. Surrounded by hills in an industrial area designed for business and retail, the facility and land are leased from a local developer and come with plenty of free parking, something unheard of at the old location.
The surgery center, called Mission Valley Heights Surgery Center, encompasses about 15,000 square feet and is run as a separate entity collectively owned by 25 physicians, including four from California Orthopaedic Institute. A management group, Physician Surgery Centers LLC, is a minority partner.
Glenn Cozen, one of the principals of the management group and a former chief financial officer of a large Southern California orthopaedic group, was instrumental in putting the surgery center together, McComb says. "He was my partner in the research and development of the whole business. Anyone else would have given up on us." In fact, she said, many physicians who felt the enterprise would never work are now partners.
Freestanding and Physician-Owned
The surgery center is unique in its way, according to McComb. "In San Diego we're the only freestanding, solely orthopaedic and pain facility not owned by a hospital, or in which a corporation is a major shareholder," she says proudly. The center is also the fulfillment of a dream, she adds. "Our purpose when we set out to build the group in 1996 was to be able to draw other physicians to the surgery center so they could participate in the state-of-the-art, physician-owned facility." Competition between the orthopedists using the surgery center is negligible, the executive director maintains. "We have actually united the orthopaedic community," she says. "There are physicians in competing groups that are shareholders in our surgery center."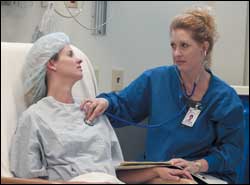 The setting is serene, both inside and out, with white hallways, high ceilings, walls of windows, and an earth-toned reception area with a freshwater fish tank. The facility includes 20 examination rooms, a new x-ray department, and a casting room with four beds. The outpatient surgery center has four operating rooms.
A full-service orthopaedic practice, COI lists among its services: general orthopaedics; sports medicine; joint reconstruction; hand and wrist surgery; spine surgery; foot and ankle surgery; rehabilitation services; arthroscopy of the knee, shoulder, ankle, and elbow; and workers' compensation evaluation and treatment.
The History of a Practice
Jeffrey E. Schultz, MD, son of James Schultz, MD, one of the original founders of the orthopaedic practice that has now become California Orthopaedic Institute, has heard tell of a time long before the advent of the shiny new building in Mission Valley; 38-year-old Schultz recalls that four partners originally started the group in about 1965, the year of his birth, but he says the roots of the practice actually go back much further to the time following World War II when Chet Barta, MD, became part of a well-respected group called West & Wiggins in San Diego. In time, Barta branched out to form his own orthopaedic group, which later included Schultz's father.
Schultz remembers that University Avenue Orthopaedic Medical Group earlier, as it became after moving to the so-called "Pill Hill" area near the hospital, was one of two major orthopaedic groups in the city's uptown area. He recalls helping to tear down an adjacent apartment building, with the aid of fellow sons and daughters of the group's other physicians, to construct a parking lot for the growing practice.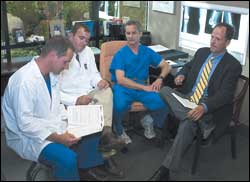 Inspired by his father, Schultz knew he wanted to be an orthopaedic surgeon from a very young age. Even witnessing his first surgery in high school—a below-knee amputation—did not put him off. A San Diego native, he attended his father's alma mater, Creighton University in Omaha, Neb, followed by medical school at Creighton University School of Medicine. After an internship at the University of California, San Diego School of Medicine and residency at the San Francisco Orthopaedic Residency Training program, he contemplated taking some time off, but his father had other ideas. The son returned to the practice in July 1996, working with his father on some complex revision joint surgeries before the elder Schultz began handing the reins over to his son and then retired about 6 months later. As if on cue, the old guard began retiring, just as a new group of physicians emerged to take over the practice.
Drew A. Peterson, MD, president of the group and a Navy-trained surgeon with fellowships in both hand surgery and foot and ankle surgery, joined shortly after Schultz. The two frequently jest about primacy—Peterson's title vs Schultz's seniority. The latter's specialties are knee and shoulder arthroscopy and joint reconstruction.
William S. Adsit, MD, also a Navy-trained surgeon with a specialty in orthopaedic sports medicine and knee and shoulder arthroscopy, came on board in 1997, followed in 1998 by Wesley R. Smidt, MD, whose specialties are sports medicine and arthroscopy. Podiatrist Michael H. Quinn, DPM, has been affiliated with COI since 2002, and David G. Levinsohn, MD, a specialist in sports medicine and joint reconstruction, joined earlier this year.
New Efficiencies
While James Schultz served as a personal example to his son and remained an emeritus partner and "guiding light" for several years, his retirement, followed by that of the other partners shortly thereafter, signaled a major shift in the practice. Yet, despite the challenges of changing location, name, and surgical staff, the business has grown and flourished, apparently with few growing pains. Comparing the number of patients who visit the practice now compared to years ago, Schultz estimates the number is perhaps double or triple the patients his father and his colleagues used to see. "A good day back then was probably 10 patients in the morning and 10 in the afternoon. Now, we're seeing on average 20 in the morning and 20 in the afternoon, and even more sometimes." How do the physicians handle the increased patient load? According to Schultz, "We've had to learn to become more efficient with our time while maintaining the level of care and commitment to our patients that my father and his generation had always seemed able to offer because they had so much time."
The new surgery center has been an enormous help in accommodating the increased patient load, says Peterson.
"I'll have a patient with a smashed finger come in to see me in the morning, and instead of having to wait to schedule the patient for the evening at the local hospital, I can just go right down the hall and take care of the patient that day… I'm done by 4 or 5 o'clock and I've treated more injuries and seen more patients than I could have done by making rounds at the hospital. We aren't driving around the city to surgeries like typical surgeons do."
The efficiencies that afford surgeons the ability to see more patients also extend to the lives of the surgeons themselves, a fact that has proved attractive to the medical staff. "One of the things that really attracted me to this group," says Peterson, "was that their philosophy was really family-oriented. They had a full day off a week [for surgeons]. That's not really common in orthopaedic practice." The day off shows the priority the group places on making time for family, Peterson says.
Family orientation is a big part of the philosophy of the practice, McComb adds. "Unlike other practices that I've experienced, it's not all about the bottom line here. It's about customer service and customer satisfaction. And it's also important for them to have time for their personal lives." Peterson takes it one step further, believing that it makes sense to bring compassion, humanity, humility, and other values that he characterizes as "Christian" to the practice. A member of a Catholic business organization called Legatus that is composed of CEOs and company presidents whose mission is to bring Christian values into the workplace, Peterson believes this is reflected at COI by "the way we conduct our lives and care for our patients and employees."
More Changes
When Schultz joined the University Avenue group in 1996, orthopaedic practice in San Diego County was in the process of transition.
"We had a very large referral base based on our older doctors and at the time we were well entrenched in the capitated business," he says. At the time, the HMO business was peaking, with patient loads increasing and revenues dropping. At first entering into these managed care agreements was a good way to maintain a large patient base, but as time went on, Schultz says, the risks have increased in the capitated business, so COI has reduced the HMO share of its business and made a big push into the workers' compensation area.
"We're just trying to diversify our business, just as you would any financial portfolio," he explains. "In essence, that helps us be able to afford the increased staff required to handle the increased paperwork, since we have to get an authorization for everything we do. That's the kind of arena we're in right now in Southern California."
McComb says the practice sees an average of 2,000 patients a month, of which about 400 are new patients. Of these, about 55% are workers' compensation, 20% are HMO, 20% are private and Medicare, and 5% are medical/legal, such as auto accident or third-party liability patients.
"Medicare reimbursements have been going down, and a lot of insurance companies go with the Medicare trend for their allowances, so what we've seen is a reduction in reimbursement for our services as surgeons," Peterson says. "That's one reason why we have to be efficient and why we've tended to look at workers' comp a bit more. Perhaps it's more demanding and challenging in some respects, but the insurance companies also pay the bills."
As new laws get passed and there are further reductions in reimbursements, new challenges will likely face COI and other medical groups, Peterson acknowledges. "It will make it more challenging to run a successful business."
Meanwhile, the group plans few major changes. Adding a spine surgeon to the mix of physician partners is one goal. Currently, a spine surgeon visits the office weekly to care for patients, but adding a full-time spine surgeon is a must for a comprehensive orthopaedic practice, Peterson says.
More focus on sports medicine and athletes is also part of a future plan, he says. "A lot of us are into sports quite a bit."
This is a bit of an understatement since almost the entire COI surgical team—which ranges in age from 37 to 48—is involved in competitive sports. Peterson is a competitive swimmer and triathloner; Schultz and Smidt are avid surfers; Adsit is a competitive runner.
"I think what we'd like to portray to our patients is that we do believe in fitness," Peterson says. "It's good to practice what you preach."
From The Cutting Edge :: orthopaedic Technology Review :: Vol. 5 No. 5 Page 18
Ruth Stroud is a contributing writer for orthopaedic Technology Review.